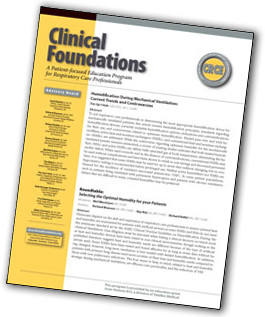 Please
login
to take the post-test.
If you do not have a username/password, then please Register before taking any tests.
If you have forgotten your username or password, you can Request a reminder email be sent to you with your username/password in it.
Welcome to the Clinical Foundations online testing center. Please login and/or register before taking any of the available tests.
Currently Available Tests
Webinar 4
High Flow Nasal Cannula Therapy: A Simple and Effective Modality
Issue 21
Ventilator-Associated Events: New Outcome Measure
Issue 20
Oscillating Positive Expiratory Pressure (OPEP)



Test Fee: $8.00

Issue 19
High Flow Nasal Cannula
Issue 18
Rationales and Applications for Capnography Monitoring During Sedation: Panel Discussion: Capnography and Conscious Sedation
Issue 16
Humidification During Invasive and Noninvasive Ventilation
Issue 14
Aerosol Therapy for Ventilator Dependent Patients
You must register/login before taking any tests.